Hudson Berkshire Division's 2018 Fall Schedule
On Friday night November 16th we will have our annual layouts visit followed by Election of Division Officers at the Upstate Model Railroaders, Glens Falls. We will also be conducting a raffle to benefit the UMRR - books, kits and other model railroad items.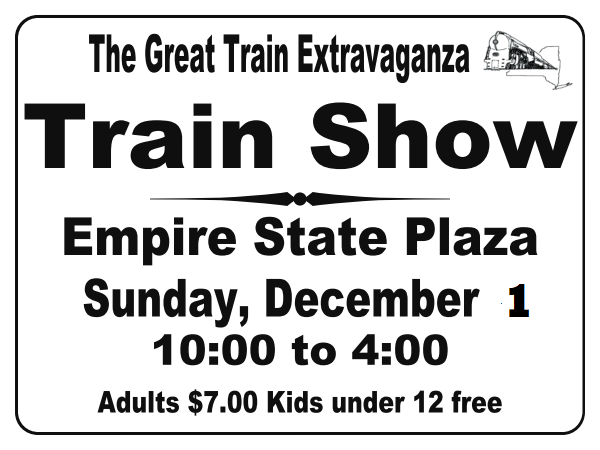 And as always December will be devoted to the Great Train Extravaganza which is now run exclusively by the members of the Hudson Berkshire Division. Visit the new Great Train Extravaganza website and see what new things are in the works for the 2018 show!
* * * * * * * * * *
Then next we are off to the Springfield Train Show on Saturday January 26th - look for the signup sheet in the upcoming November Edition of the Form 19
Again, check back on the web site for the latest updates to the schedule - and visit the Event Calendar page for 2018 events.
* * * * * * * * * *
NER and NMRA 2019 Conventions
For those of you who haven't attended a Regional or National Convention - how about making 2019 the year to cross that off your list - and for those of you who have attended before - visit the Conventions page for further details about the 2019 NER Empire Junction (Syracuse, New York September 19-22 2019) and 2019 NMRA (Salt Lake City, Utah) Conventions.
* * * * * * * * * *
Back to top